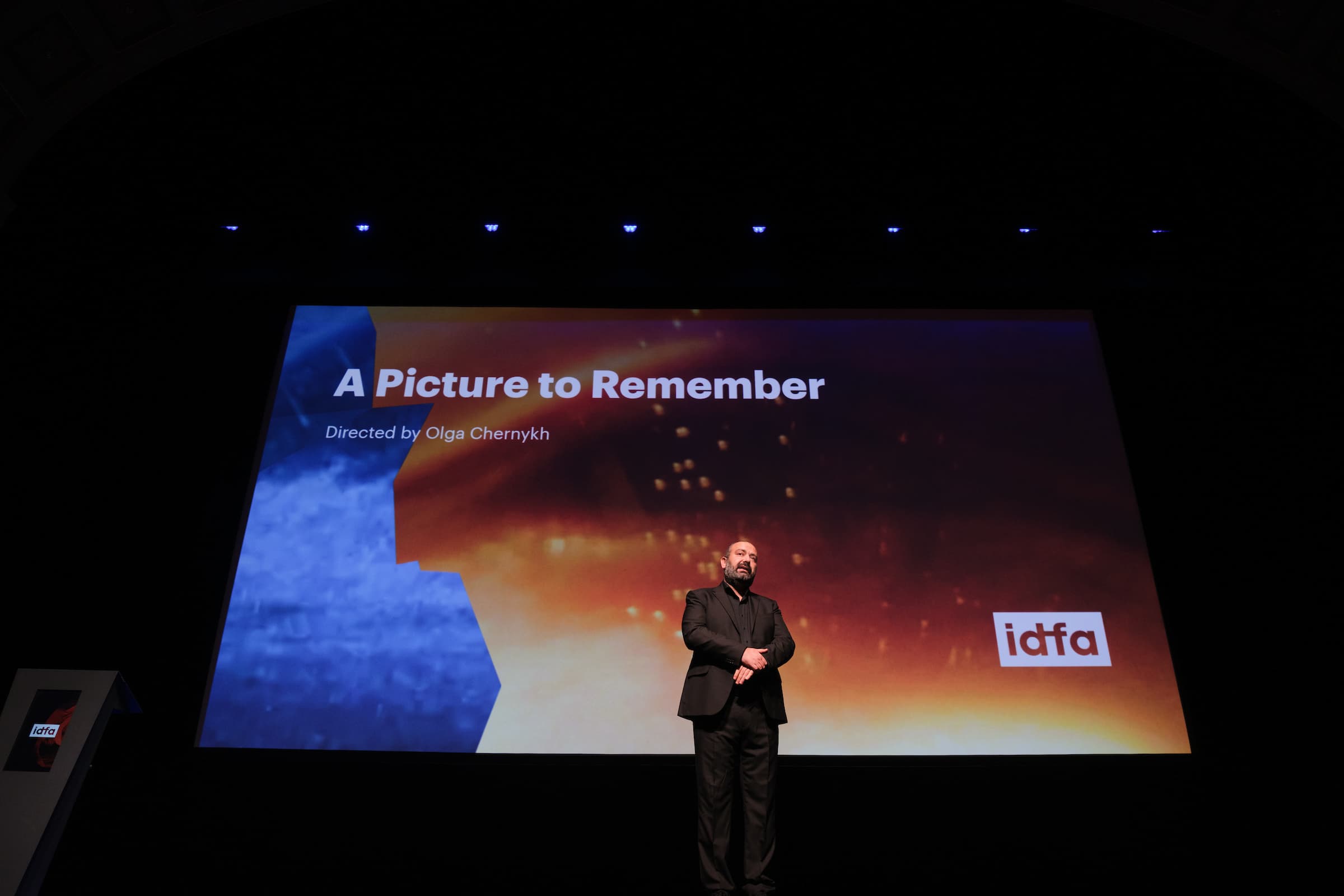 IDFA 2023 opens with A Picture to Remember in Amsterdam's Royal Theater Carré
The 36th International Documentary Film Festival Amsterdam (IDFA) officially opened in Royal Theater Carré on November 8 with the world premiere of A Picture to Remember by Olga Chernykh. 
During the Opening Night ceremony, IDFA's Artistic Director Orwa Nyrabia took the stage to officially welcome all filmmakers, documentary professionals, and guests to Amsterdam: "With more than 3000 professionals arriving to Amsterdam and an edition that is the most international to date, we are looking forward to sharing films that will live long, travel the world from here, and filmmakers whose careers will shape the future of this field. It is at such terrible times that a film festival proves its worth, accepting that we are many and we are not in agreement, but we can still think together about this world that we share."

During the opening evening, IDFA's Artistic Director Orwa Nyrabia was taken by surprise by activists who took the stage. Orwa Nyrabia gave them the space for a short period of time, and proceeded to continue the evening's activities. IDFA would like to expressly state that it distances itself from the slogan stated on the activists' canvas, and reiterate that IDFA is a platform for global freedom, empathy, and compassion that fundamentally stands for the protection of human rights across the globe. During the IDFA 2023 press conference, Orwa Nyrabia reflected also on the role of documentary film in response to urgent and devastating global affairs. Read here the full statement from IDFA and Artistic Director about the events of the Opening Night.

About A Picture to Remember
A Picture to Remember, which received IDFA Bertha Fund support in 2023 and is nominated for the IDFA Award for Best First Feature, is Chernykh's first feature-length documentary that presents a deeply personal and essay-style account of the war in Ukraine, as seen through the prism of three generations of women: Chernykh herself, her mother, and her grandmother. The result is a kaleidoscopic and personal film that travels through time fluid.
Cultuurfonds Documentary Stipend goes to Luuk Bouwman
The Cultuurfonds Documentary Stipend was also awarded during the Opening Night. This year, the prize of €50,000 went to filmmaker and musician Luuk Bouwman. The stipend is made available annually by an anonymous patron. The prize money is intended to financially support his next documentary project. He received the prize from last year's laureate, Pim Zwier. Gerlach, which Luuk Bouwman made together with Aliona van der Horst, will premiere during IDFA 2023.
Guest of Honor and Filmmaker Talks
IDFA welcomes filmmaker Wang Bing as this year's Guest of Honor. In addition to a retrospective of his work, IDFA screens a Top 10, curated by Wang Bing. Filmmaker and artist Peter Greenaway will receive the Lifetime Achievement Award during IDFA 2023. In-depth conversations will take place with both filmmakers. There is also a special series of films and conversations, Corresponding Cinemas, that examines connections and creative influences among the work of various filmmakers. In addition, renowned French filmmaker Claire Simon will speak about her extensive oeuvre. More information about all Talks can be found here. Philosopher and writer Simon(e) van Saarloos curated the extensive Contagious &Queers program in IDFA Vondelpark Pavilion.

DocLab Phenomenal Friction
DocLab, DFA's platform for interactive documentary art pushes the boundaries of how we perceive and engage with non-fiction narratives by blending art, reality and technology. This seventeenth edition, themed 'Phenomenal Friction', returns to the heart of Amsterdam, showcasing digital art, AI installations, games, XR projects, live events, and experimental forms of theatre and storytelling.
About IDFA 2023
The 36th edition of IDFA takes place from November 8–19 in more than 30 theaters and festival locations throughout Amsterdam. In those venues, some 270 films and 32 new media projects from 137 countries will be presented. More than 3000 professional delegates and guests are set to attend this year's edition and enjoy a diverse program that includes films, interactive projects as well as assorted events and performances.